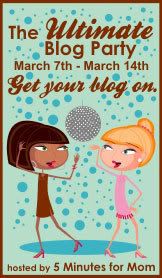 The dear women at
5 Minutes For Mom
are having a blog party! You should check it out...there are all kinds of great prizes and wonderful sites to visit. PLUS, if you post on your blog about their party, you can add your site to their Mr. Linky...and get some new visitors to your own blog. Sounds like a win-win situation to me. Oh, and don't forget to go to everyone else's party.
There are so many cool prizes to be won at this year's ultimate blog party, but my top 3 picks would be:
A Photo Tile Necklace by
Elemental Memories
A blog design by
Sweet 'n Simple Design
Chocolate by
The Chocolistas
If my top three picks are already chosen, I'd love any of the following (in order of preference): 59, 21, 38, 69, 88, 78, 67, 116, 45, 92, 104, 105, 109, 113, 116.
I am soooo there:P